CORONARY HEART DISEASE
Coronary heart disease (CHD) is narrowing of small blood vessels which will supply blood & oxygen to the heart. CHD is also known as coronary artery disease. Coronary heart disease is caused by buildup of the plaque in arteries to the heart. This is also called as hardening of the arteries. Obesity may also lead to heart failure. This is a serious problem in which the heart cannot pump enough of the blood to meet the body's needs. Chest pain or discomfort (angina) was the most common symptoms. Other related symptoms that includes shortness of the breath & fatigue with the activity (exertion), fatigue and general weakness. To diagnose the coronary heart disease the tests like: Coronary angiography, exercise stress test, echocardiogram stress test, ECG and heart CT scan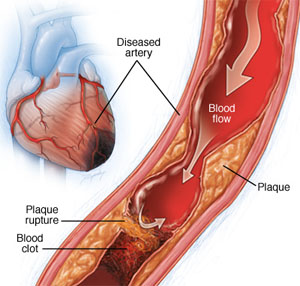 TREATMENT
Doctor will discuss about the treatment options with the patient, based on the type of the heart problem that the patient is suffering. These may differ from taking medication and to have the surgery or medical procedure. Even if patient has suffered already with heart condition it was very important protect the heart by living a healthy lifestyle.
Sometimes lifestyle changes are not enough to control the blood cholesterol levels. For example, patient may need to take medications to control or to lower their cholesterol levels. By lowering the cholesterol level, they can decrease the chance of having heart attack or heart stroke.
To Avail the Best Treatments CLICK HERE...!!!!