Doctors may suggest for BPD/DS to patients who were severely suffering with obese. These people generally have a body mass index (BMI) of 50 or greater or a BMI of 40 or greater with any serious problems like type 2 diabetes or any other major health problems. BPD/DS is a complex surgery which tackles the weight loss in 3 different ways. First is sleeve gastrectomy. For this, a larger portion of stomach was removed with a help of stapling instrument, by leaving a narrow tube, or sleeve, from top to near the bottom of stomach. With less stomach to fill, then patient will feel full more quickly & eat less amount of food & fewer calories.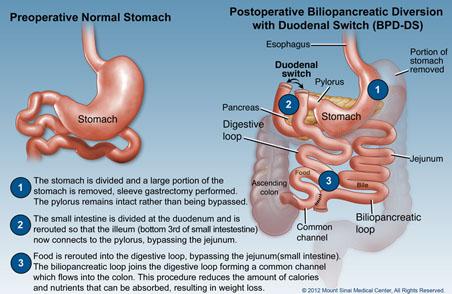 The 2nd part of the surgery is to reroutes the food away from upper part of the small intestine, which was a natural path of the digestion. This will cut back on how many calories & nutrients the body will able to absorb. The small intestine was divided & a connection is made near end of the small intestine.
The 3rd part of the BPD/DS procedure will changes the normal way which bile & digestive juices break down food. This will cuts back on how many calories you are able to absorb, causing more weight loss. One end of small intestine will be connected to the duodenum, near bottom of the stomach.