The laparoscopic Adjustable Gastric Banding in Mumbai, India was the most popular procedure of weight loss. It is very safest obesity surgery which was currently available when compared with remaining weight loss surgery procedures. It is a great device, which so many patients are following this procedure to reach a better and best weight and also improves their health.
The Adjustable Gastric Band on the stomach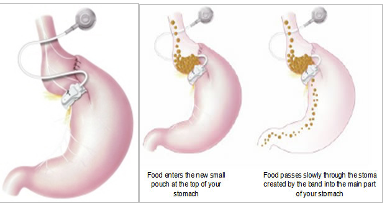 Procedure
The surgery of gastric banding was done with the laparoscopic (keyhole) technique after performing general anaesthesia.

5 small incisions were made in the abdomen where the laparoscopic instruments were inserted.

The adjustable silicon ring called as gastric band it will be fitted surrounding the top of the stomach & then clipped into the place.

A fold of stomach will be sewn over the band to decrease the chance of slippage. This band is connected to a small tube & access to reservoir (port) which will be used to add or remove the fluid from the band.

The last step of the operation involves the fixing of the port to muscle under skin at one of the incision sites.